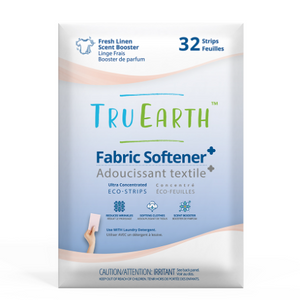 Tru Earth Eco-Strips are the smartest way to clean laundry, period.

Tru Earth Fabric Softener+ Eco-Strips work in all washing machines, including top-loaders, front-loaders, and HE, plus in both hot- and cold-water settings. 
No measuring, no spills, drips or splashes like with liquid fabric softeners. Each eco-strip works with one laundry load to add a soft, natural feel and reduce wrinkles.
Just add a single strip into your washing machine with your laundry detergent (like Tru Earth Laundry Detergent Eco- Strips) when you are ready to start the wash cycle, close the door, and start up the machine. No fuss, no muss.