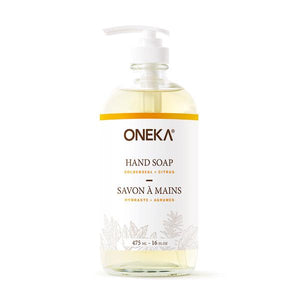 Let our naturally energizing blend of citrus and ylang-ylang refresh you while discovering the tonic and purifying effects of goldenseal, a boreal plant. You will appreciate the soothing touch of calendula and its delicate aroma while washing your hands.

All Oneka hand soaps are pH balanced, vegan, and biodegradable. For use on all skin types.

This product is a 2 in 1 and can be used as a body wash and a handwash.
475 mL glass bottle
Prefilled for your convenience. Keep your bottle when it is empty bring it back for a refill!
Find ingredients here.