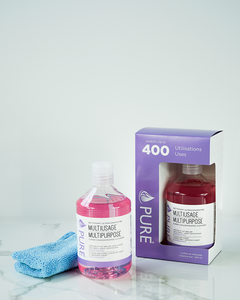 Pure multipurpose is a big favourite. This ultra-concentrated product is practical everywhere in the house as well as outside. Its use is simple, ONLY 5 ml in 2L. A bottle of 500 ml can make up to 400 washes. The less product used, the less negative impact on the environment. Made from the best ingredients, the use of rose water will motivate you to make everything shine.
PLEASE USE THE BOTTLE TO REFIL WITH THE SAME OR OTHER PRODUCTS.
Effective for cleaning windows, mirrors, wood, leather, walls, floors and surfaces requiring a neutral pH.
Quickly removes dirt without tarnishing, or damaging floor finishes.

Shines all surfaces.

To clean your windows without a trace in 10 seconds, simply dip your terry cloth in the solution, twist well and wash. There you go!
Ingredients:

Aqua

Sodium laureth sulfate - plant derived cleaning agent attested without contaminant

Alkyl polyglucosideplant - derived cleaning agent

Sodium chloride - mineral viscosity modifier

Glycereth-2 cocoate - plant derived wetting agent

Sodium citrate - plant based pH modifier

Citric acid - plant based chelating agent

Benzisothiazolinone - synthetic & biodegradable preservative

Dye - food grade dye

Fragrance/Parfum - mix containing at least 50% of natural essential oils and sometimes synthetic fragrance always without harmful chemicals.