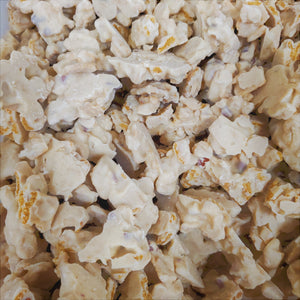 Vanilla Clusters are made of bite-sized almond pieces, toffee bits and graham wafers dipped in luscious white vanilla chocolate. Feast your eyes and delight your taste buds on a decadent snack like any other! Not only they are ideal for snacking but also for adding a touch of extra crunchiness to your baking projects.
Ingredients: Sugar (sugar and/or golden sugar, refiner's syrup, dextrose, molasses, fructose, honey, dried molasses), Palm kernel oil, Milk ingredients, Almonds, Whole grain wheat, Degermed cornmeal and/or cornmeal, Canola oil and/or modified canola oil, Salt, Natural flavour, Soy lecithin, Cocoa butter, Baking soda, Calcium carbonate, Sunflower lecithin, Water, Trisodium phosphate, Rosemary extract, Iron and/or ferric orthophosphate, Niacinamide, Zinc oxide, Pyridoxine hydrochloride (Vitamin B6), Calcium pantothenate, Folic acid.
Allergens: Contains tree nuts, milk, soy, wheat.
1 cup =