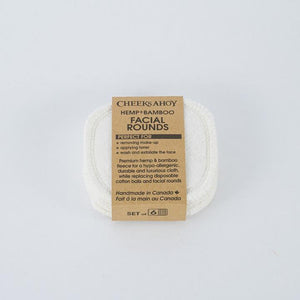 Green-up your daily facial routine by eliminating disposable cotton balls and facial rounds. Washable hemp rounds are a fantastic eco-friendly replacement, doing a better job and lasting through years of continued washing. Perfect for removing make-up, applying toner, to wash and exfoliate the face. The pads are also a great size for little ones to clean their faces after brushing teeth. Approx size is 3" diameter.
Hemp creates one of the most eco-friendly fabrics in the world and is hypo-allergenic and non-irritating to the skin. It provides all the warmth and softness of a natural textile and is an exceptionally durable and strong fabric. Hemp requires no pesticides, crowds out weeds without herbicides, controls erosion of the topsoil, and produces oxygen. It is also a very fast growing crop, producing high fibre yield per acre making it a very sustainable choice!
Care: Rounds are not pre-washed, so wash and dry before use. To clean, wash warm with like colours using your detergent of choice. Tumble dry low or hang to dry. Fabric will become softer and reach maximum absorbency after a few wash cycles. Fabric may shed some lint until they've been washed a few times. This is normal!
Rub the pad in cold water and soap after use if it is soiled. Let it air dry if not washed immediately. Include in your regular wash. Using a lingerie bag will help you easily find your pads afterwards. Tumble or air dry. Note that the heat from the dryer can fix stains by "cooking" them. Do not iron the pads.
If your pads are still dirty after washing, consider changing soap. Some soaps can saturate the fabric and leave residues. You can also soak your pads in hot water with two tbsp of sodium carbonate, stir and let act half a day, then regular machine wash.
*Do not use fabric softener or dryer sheets as these can decrease absorbency.
Made from 55% hemp and 45% certified organic cotton.

Handmade in Peterborough, Ontario