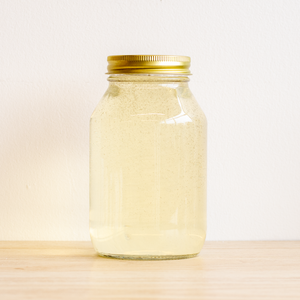 NEW - Comes prefilled in a glass deposit jar

$2 refundable jar deposit will be added at checkout
Bulk refill - This detergent is the best value for your money at less than $0.15 per load
Made from an ultra concentrated formula with ingredients that have a positive impact on health and the environment, this laundry detergent dissolves more than 95% in water. It greatly reduces deposits and residue on clothing. In addition to cleaning, it softens fabrics and reduces static electricity.
*Perfect for sensitive skin and babies
*Great for cloth diapers
*Efficient in cold water
*Can be used on clothes as a stain remover
*Ultra-concentrated formula
*Cleans and deodorizes
*Biodegradable
*Vegan and not tested on animals
*Septic system safe

Directions: HE Washer: 25mL/load Conventional Washer: 40mL/load
Ingredients: aqua, sodium laureth sulfate, MEA-oleate, sodium carbonate, sodium chloride, laureth-7, polyacrylic acid, alkyl polyglucoside, methylglycinediacetic acid, trisodium salt, sodium lauriminodipropionate, sodium hydroxide, Fragrance (with essential oil)
Caution: Keep out of reach of children. Avoid contact with skin and eyes. In case of contact, rinse eyes and skin for several minutes. In case of ingestion, drink a lot of water. Do not induce vomiting. Seek medical attention, if needed.