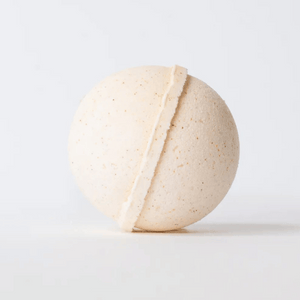 Made by All Things Jill
Bathe in sunshine! Turn your frown upside down with this bright, bubbly blend of citrus and vanilla-like essential oils. Drop one in your tub and allow the salts and grapeseed oil to soothe and nourish your skin. Sink deep into the water and picture yourself on a sunny beach with a sweet, slushy drink. This joyful scent was designed to uplift, wash away any hint of grumpiness and draw you into the present moment.
Instructions:
Banish partners and kids. Run a deliciously warm tub. Once full, drop one bath bomb into the water, allowing it to fizz and release gentle essential oils. Slide into the tub, lean back, breathe in the dreamy aromas, and relax! 

Ingredients:
Sodium bicarbonate (Baking Soda), Citric Acid, Magnesium sulfate (Epsom salt), Vitis vinifera (Grapeseed) oil, Kaolin (White Clay), Bixa Orellana (Annatto) Seed powder, Hamamelis virginiana (Witch hazel) water, Citrus reticulata (Tangerine) peel oil, Citrus limetta (Lime) peel oil, Citrus reticulata (Red Mandarin) peel oil, Elletaria cardamomum (Cardamom) oil, Laurus nobilis (Bay Laurel) oil, Styrax benzoin (Benzoin), Citrus sinensis (Sweet Orange) peel oil
(organic / non organic)