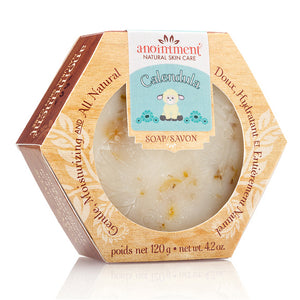 This mild, unscented soap contains calendula flower petals grown in our gardens. Calendula-infused olive oil provides skin-soothing and moisturizing properties, making this a perfect facial bar or soap for babies.
Anointment soaps contain 50% olive oil, making them mild and gentle. The soap also contains coconut and sustainable palm oil to produce a hard, high-quality, long lasting soap. Each soap also contains unsaponified certified organic and certified fair trade Shea butter for extra moisturizing and skin nourishment.
We make our soaps by hand in small batches. They are hand cut, stamped and cured for a minimum of 21 days prior to shipping to ensure they are mild and gentle.
Calendula petals are infused into the olive oil prior to soap making creating a 'calendula tea' which transfers the skin soothing properties of the calendula flower to the soap oil. They are then strained out, the soap is made, and the calendula petals are added back in to provide colour and texture to the soap.
Perfect for sensitive skin.
Vegan, Gluten Free, Scent Free
Ingredients:
Sodium Olivate, Sodium Cocoate, Sodium Palmate, Calendula Officinalis Flower, Calendula Officinalis Flower Extract, Butyrospermum Parkii