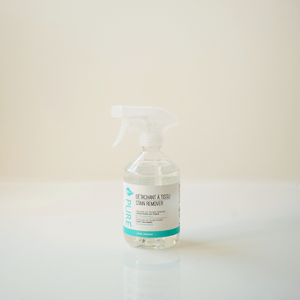 The Pure fabric stain remover is a true favourite. Naturally effective with a citrus-based formula, this cleanser removes all types of stains from clothing. The citrus fruit acts as a scissor by cutting the dirt into small pieces and easily removes stains when washing. This product contains no solvents or petrochemicals that damage fibers in the long term. It removes ink, oil, red wine, grass, lipstick and more. It will allow you to save many of your favorite clothes.
Ingredients:
Aqua
Laureth-9 vegetable source cleaning agent
Propylene glycol n-butyl ether wetting agent from plant sources
Alkyl benzene sulfonic acid monoethanolamine salt synthetic and biodegradable cleaning agent
Trisodium methylglycine diacetic acid chelating agent from plant sources
Dipropylene glycol mono methylether wetting agent from plant sources
Sodium lauriminodipropionate cleaning agent from plant sources
Sodium hydroxide mineral pH adjuster
Fragrance / Perfume mix containing at least 50% natural essential oils and sometimes synthetic perfumes always without harmful chemicals
We are transparent, just like our containers. We display the full list of all of our ingredients on our labels because we pride ourselves on the effectiveness of our products and the ingredients we use to make them happen.