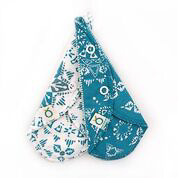 This model of Öko Creations reusable panty liner has been specially designed—wide at the front and narrow at the back— to fit with thong-style underwear.
It offers light protection during your period or any other day in between. Made of two layers of absorbent hemp and thick organic cotton, it is thin and efficient.
The fabric that comes into contact with the skin is made of natural fibres that haven't been bleached or dyed. The risks of irritation, allergy and infection are therefore reduced.
Like disposable pads, Öko Creations washable panty liner have wings to hold the pad in place with a snap attached under the underwear. In the case of the mini for thongs, there are two sets of snaps on the same wing, making them adjustable. The colourful patterns on the back of our pads add a touch of beauty!
Öko Creations Guarantee
At Öko we celebrate diversity and we know that every woman's body is unique! We are constantly working to improve our products for the optimal comfort of each of you, which is why we offer you a satisfaction guarantee. Contact us if you have any questions, we will be happy to assist you!
Format: 2-pack
Colour: natural front and back, coloured wings
Composition: 69% organic cotton, 31% hemp
Label: 100% certified organic cotton
Packaging : FSC paper
Made in Quebec, Canada