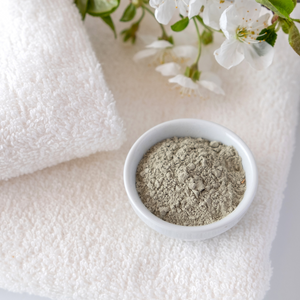 Appearance: Light green colored powder.

Benefits: French Green Clay absorbs and removes impurities from the skin, revealing the fresh surface of the skin to provide a healthy looking glow. When prepared as a mask, the clay dries on the skin causing pores to tighten and the skin starts to feel firm, toned and refreshed. French Green Clay can be used in mineral baths to promote relaxation of the body and a sense of well-being. It is suitable for all skin types.

Application: French Green Clay can be used in body wraps, soap making, face masks, mineral based or cream based cleansers, face or body scrubs, cosmetics and facial powders.

Directions for Use: 5-100% in skin-care products, 1 T. / 15ml per lb. / 500g of soap.

Caution: Caution should be exercised as clays may stain fabric.

Simple Face Mask Recipe:
Combine 1 tbsp of clays to 2 tbsp of water to form a paste and apply to the skin. Leave for about 10 minutes and wash off with warm water. Floral water or aloe vera gel juice can be substituted for water.