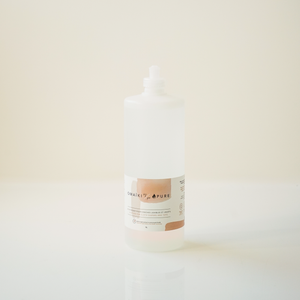 Made of ingredients safe for your child and for the planet, Omaïki Sanitizer by Pure is an excellent surface bleach. It's also great to add to your load of laundry. This ecological product optimizes the washing of your washable nappies during the normal cycle. 
Bring back the bottle for a refill & save!
Ingredients: Aqua, Hydrogen peroxide, Laureth-7, Dodecylbenzene sulfonic acid, Propylene glycol, Potassium sulfate.
In partnership with Omaïki, we are transparent, just like our containers. We display the full list of all of our ingredients on our labels because we pride ourselves on the effectiveness of our products and the ingredients we use to achieve them.