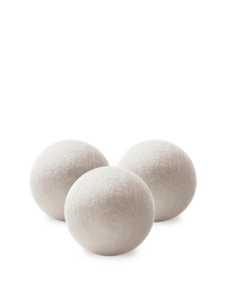 Wool Dryer Balls
Each ball is hand crafted using only Merino, Polworth or Corriedale wool - depending on the colour. They are tested to last for 500+ loads. No chemicals, perfumes or dyes are used to make them. Simply store them in your dryer between loads.
It is recommended to use 3 dryer balls in each load to reduce drying time, which saves on electricity & preserves the lifespan of your clothing.
Add a few drops of vinegar to reduce static and a few drops of essential oil to freshen your laundry.
Replaces: disposable dryer sheets
End of life: compost
Brand: Moss Creek Wool Works
Material: 100% Pure Sheep Wool
Made in: Norfolk County, Ontario