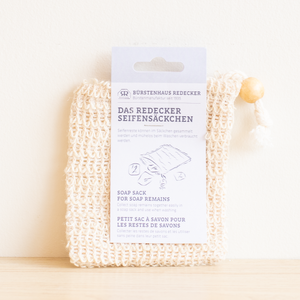 Collect leftover soap for easy use during washing and scrubbing with this soap sack made from sisal and 100% cotton fibers!
Soap sacks are wonderful for collecting all your scraps and bits of soap and repurposing them for use around the home. This soap sack is also an excellent all-natural alternative to plastic loofahs — with your small bits of soap tucked safely inside, you can scrub your skin to work up a lather and gently exfoliate.
You can feel good about this all-natural product, free from plastic packaging that can make its way into oceans and waterways.
70% cotton, 30% sisal
Size: 11 x 12.5 cm