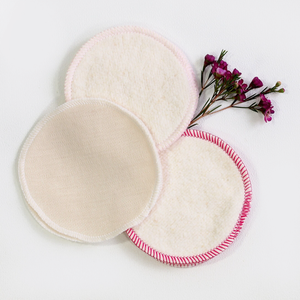 What it is: Makeup Removal Pads.
How to Use: Made of hemp fleece, these reusable makeup removal pads are gentle on the skin and eliminate the need for disposable pads. Unlike the disposable ones, they will not tear between your fingers when wet. They are also, of course, an economical and environmental choice! Effective for removing all types of makeup, lipstick and mascara, they can also be used for minor wound care, face washing, as ultra-light breast pads or other delicate tasks! Diameter size: 8 cm
Tip: The hemp fibre used in Öko makeup removal pads is pre-washed before assembly. Therefore, your Öko makeup removal pads will practically not shrink and will hold their shape after a first wash.
Rub the pad in cold water and soap after use if it is soiled. Let it air dry if not washed immediately. Include in your regular wash. Using a lingerie bag will help you easily find your pads afterwards. Tumble or air dry. Note that the heat from the dryer can fix stains by "cooking" them. Do not iron the pads.
If your pads are still dirty after washing, consider changing soap. Some soaps can saturate the fabric and leave residues. You can also soak your pads in hot water with two tbsp of sodium carbonate, stir and let act half a day, then regular machine wash.
Replaces: Single use cotton pads
End of Life: Compostable
Brand: Oko Creations
Material: 55% hemp, 45% organic cotton
Made in: Quebec, Canada