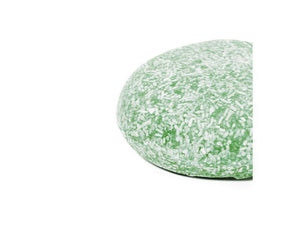 THE STIMULATOR SHAMPOO BAR
(french green clay + matcha green tea | eucalyptus + cedar wood)
If it's good enough for Marie Antoinette, it's good enough for us! The French green clay in this hair bar duo acts like a sponge and literally 'drinks' oils, toxic substances, and impurities from your scalp and hair. Its toning action, coupled with the antioxidant and protective properties of matcha green tea, stimulates the scalp by bringing fresh blood to damaged skin cells, revitalizing your hair. With sweet almond oil and shea and cocoa butters, the conditioner bar helps ease the stress of styling and heat.
Features:
100% essential oil
Vegan + cruelty-free
Lasts approximately 50-75 washes (may vary!)
Equivalent to 2-3 16 oz bottles of liquid product
Color-safe, can be used with extensions
Recommended Hair Type: problem + oily scalp | thinning hair
Ingredients: sodium coco sulfate, coconut oil, cocoa butter, (essential oils of: peppermint, eucalyptus, rosemary, cedar wood, and bergamot), matcha green tea, french green clay, shea oil, hemp seed oil, apricot seed oil, ichthammol, stinging nettle extract, d-panthenol, and green oxide