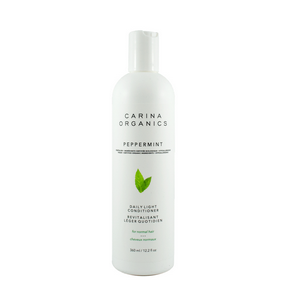 360ml prefilled bottle (can be refilled over and over)
Description: A cool, soothing and stimulating conditioner formulated with certified organic plant, vegetable, flower and tree extracts. Helps improve blood circulation, relieves itching, and replenishes essential moisturizing nutrients throughout the scalp. Restores luster, softness, flexibility and shine. Detangles instantly.
Directions: Apply and massage evenly into wet hair, emphasizing any dry ends for 30 seconds. For maximum scalp stimulation, massage in for 60 seconds. Rinse thoroughly. Avoid contact with eyes.
Tip: Wisk into warm Foot Bath to relieve, sore, tired feet.
Ingredients: Filtered Aqua, Cocos nucifera (coconut) oil*, Pinus banksiana (pine) extract, Matricaria chamomilla (chamomile) flower extract*, Urtica dioca (nettle) leaf extract*, Taraxacum officinale (dandelion) leaf extract*, Trifolium pratense (clover) flower extract*, Acetic Acid (Apple Cider Vinegar)*, Olea europaea (olive) fruit oil*, Cucurbita pepo (pumpkin) seed oil*, Menthol crystals.
*: Certified Organic
This product is:
Hypoallergenic
Cruelty Free
Vegan
100% Biodegradable (safe in rivers, lakes and oceans)
Paraben Free
Soy Free
Gluten Free
Dye Free