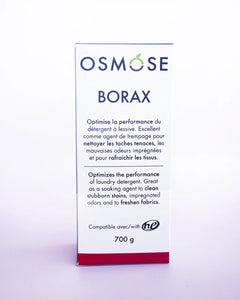 This alkaline salt increases the effectiveness of the laundry detergent by its basic pH. Add to your laundry detergent for the maintenance of your washing machine. This product is available in bulk, it's an ecological and economical choice. You can find many solution in our Book Household Cleaning Efficient and Ecological by Osmose.
Has antiseptic, antibiotic and fungicidal properties
Offered in bulk
used to soak
Ingredients: Borax (disodium tetraborate decahydrate)
How to use: 
FOR FRONT WASHER: 60 ml of product in a little hot water + laundry detergent / load.
FOR CONVENTIONAL WASHER: 60 ml of product directly in the tub + laundry detergent / load.
FOR SOAKING: Dissolve 120 ml (1/2 cup) of powder in 4 liters of hot water and let soak for 24 hours. Then wash the clothes.