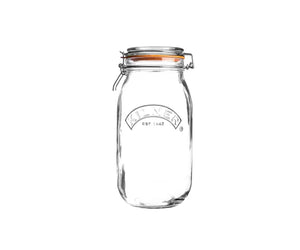 The Kilner
®
 Clip Top Jar is perfect for preserving healthy, home grown foods and pantry storage.
The jar capacity is 1.5litre / 1500ml which is the perfect size for, preserving whole fruits and vegetables and storing dry foods like biscuits, sweet treats and grains. Each jar embodies the traditional Kilner
®
 styling with the authentic embossed logo and contains a detailed instruction leaflet inside.
Robust and durable for everyday use.