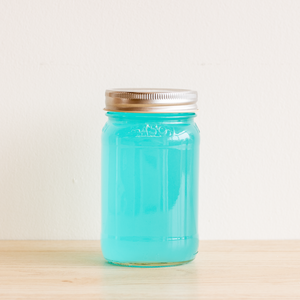 NEW - Comes prefilled in a glass deposit jar
$2 refundable jar deposit will be added at checkout

Description: Pure bowl cleaner offers a concentrated formula with a natural cleansing action, thanks to the peppermint essential oil. It will provide you with a clean, disinfected bowl without harmful chemicals.

Directions: Apply the product inside the toilet bowl. Brush and then activate the flush. For a clean, fresh bowl, use weekly.

Caution: may irritate eyes, may irritate skin. Avoid contact with eyes, skin or clothing. Do not breathe fumes. Keep out of the reach of children. First Aid: Contains: citric acid. If swallowed, call a Poison Control Center or doctor immediately. Do not induce vomiting. In case of contact with eyes, rinse with water for 15 minutes. In case of contact with the skin, rinse thoroughly with water.
Ingredients: Aqua Water, Citric Acid Preservative and pH adjuster specifically selected from vegetable sources and without synthesis, Ethanol Moisturizing agent from vegetable sources, Glycerine Wetting agent from vegetable sources, Xanthan gum Viscosity adjuster from vegetable sources. Sodium laureth sulphate Cleansing agent from vegetable sources, Methylchloroisothiazoline Preservative of synthetic sources, Methylisothiazoline Curator of synthetic sources, CI 42090 food grade coloring, Fragrance Mainly essential oils