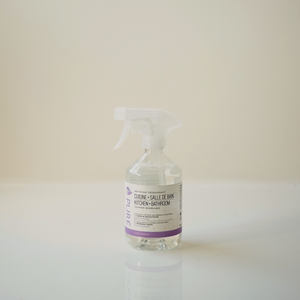 NEW - Comes prefilled in a glass deposit jar
$2 refundable jar deposit will be added at checkout
Description: Pure's Kitchen + Bathroom product can be used anywhere in the home. This product cleans naturally with peppermint and smells of freshness! This very versatile cleaner dissolves grease and stubborn stains, disinfects and deodorizes without rinsing and above all, without leaving a trace. Effective for cleaning countertops, sinks, appliances, closets, microwave, floors, ceramic tiles, stainless steel, chrome, fiberglass and porcelain surfaces This product deodorizes and is ideal for removing odors caused by garbage, empty trash cans, basements, toilets and other places prone to odors caused by microorganisms.

Directions: Use on hard, non-porous surfaces. For heavily soiled surfaces, spray on the surface and leave to act for a few minutes. Rinse and wipe with a clean, damp cloth.

Caution: irritant. Avoid contact with eyes. Protect from frost. FIRST AID: Contact - flush eyes for several minutes. Ingestion - Drink plenty of water and do not induce vomiting. Consult a physician, if necessary.
Ingredients: Aqua Water, Laureth-9 Plant derived wetting agent, Methyl isobutyl glycerol formal Plant derived wetting agent, Dodecylbenzene sulfonic acidsynthetic & biodegradable cleaning agent, Methylglycinediacetic acid Synthetic & biodegradable anti-redeposition agent, Isopropylidene glycerol Plant derived cleaning agent, Sodium lauriminodipropionate Plant derived thickening agent, Monoethanolamine Mineral PH adjuster, Sodium hydroxideThickening agent from mineral sources, Fragrance/Parfum mix containing at least 50% of natural essential oils and sometimes synthetic fragrance always without harmful chemicals