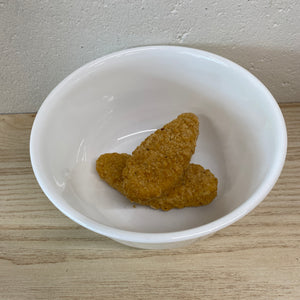 Crispy outside juicy inside, convenient plant-based tenders. Perfect for game time, lunchtime, dinners or a delicious snack in between. Easy to prep like the tenders and strips you know and love.
Ingredients: Water, Enriched wheat flour, Wheat gluten, Faba bean protein, Modified corn and wheat starch, Canola oil, Pea protein, Amino acids (L-Threonin, L-Lysine monohydrochloride, L-Tryptophan), Seasoning (garlic powder, onion powder, rosemary, celery, corn and potato maltodextrin), Salt, Flavour, Methylcellulose, Yeast extract, Pea starch, Potassium chloride, Refined coconut oil, Corn flour, Potato dextrin, Sodium phosphate, Baking soda, Monocalcium phosphate, Titanium dioxide, Spices, Sunflower lecithin, Paprika extract, Turmeric oleoresin, Vitamins and minerals (niacin [vitamin B3], pyridoxine hydrochloride [vitamin B6], thiamine hydrochloride [vitaminB1], riboflavin [vitamin B2], folic acid [vitamin B9], cyanocobalamin [vitamin B12], calcium pantothenate, zinc sulphate, ferric orthophosphate), Guar gum, Sugars (sugar, dextrose).
Contains: Wheat. May Contain: Soy
Preparation:
Oven: Preheat oven to 218°C (425°F). Place frozen tenders about 1 inch apart on a baking sheet and bake for 10 minutes, flipping halfway through.
Air Fryer: Place frozen tenders on the air fryer tray and close fryer. No preheating needed. Heat at 204°C (400°F) for 5-6 minutes.
1 unit = 1 chicken tender