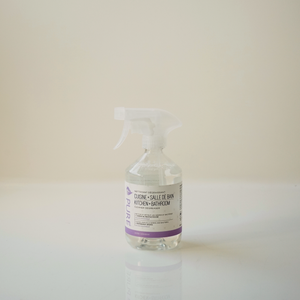 Pure's Kitchen + Bathroom product can be used anywhere in the home. Mum uses it to clean the changing table, Dad to wash the BBQ grills, the teen to remove flies from the front of his car and Grandma to clean all the lime in the shower! This product cleans naturally with peppermint. It smells of freshness! This very versatile cleaner dissolves stubborn grease and stains, disinfects and deodorizes without rinsing and above all, without leaving a trace.
Prefilled for your convenience. Keep your bottle when it is empty bring it back for a refill!
Effective for cleaning countertops, sinks, appliances, closets, microwave, floors, ceramic tiles, stainless steel, chrome, fiberglass and porcelain surfaces.

This product deodorizes and is ideal for removing odors caused by garbage, empty trash cans, basements, toilets and other places prone to odors caused by microorganisms.