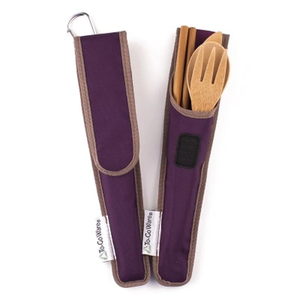 The adult To-Go Ware RePEaT utensil set includes a bamboo spoon, fork, knife and a set of chopsticks, the kids set includes a spoon, fork and knife and the naked set includes a spoon, fork and knife with no bag. A handy carabiner on the back lets you clip and carry your set wherever you go. RePEaT utensil holders give plastic bottles a second shot at a useful life – and an opportunity to stay out of our landfills. Made out of RPET (recycled PET plastic), we like to call it "RePEaT" because it lets plastic reincarnate into something kinder and gentler. Utensil sets can withstand the dishwasher but hand washing always ensures longevity. The bags are hand wash only.
Heat and stain resistant, won't impart or absorb flavors. Lightweight, strong and long lasting. Hand finished with top grade natural, food-safe wood oil. Dishwasher-Safe.
Say no to single-use plastic with this handy set! They also pass through air travel security without a hitch!
Replaces: single-use plastic utensils
End of life: compost, recycle
Brand: ToGoWare
Material: bamboo, recycled PET
Made in: China responsibly