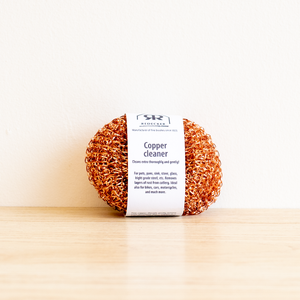 Copper Scrubber
Cleans extra thoroughly and gently! Fine copper-threads gently remove even persistent dirt and removes burnt residue from pots, pans and stoves.
Copper is a soft metal, which does not scratch.
For pots, pans, sink, stove, glass, high grade steel, etc. Removes layers of rust from cutlery. Ideal also for bikes, cars, motorcycles, and much more.
Double-layered for extra strength, extremely long lasting, washable in the washing machine at 60°C (please put in a line-sack or sock).
Do NOT use on teflon or similar surfaces. Only use when wet!
Ecologically beneficial, 100% recyclable.