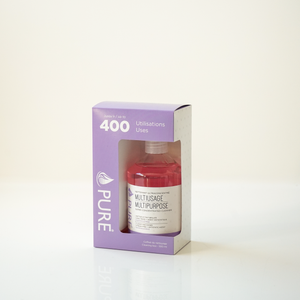 NEW - Comes prefilled in a glass deposit jar
$2 refundable jar deposit will be added at checkout
Description: The concentrated multi-surface cleaner by Pure is a favorite. This ultra concentrated product is practical everywhere in the house, both indoors and outdoors. Made with the best ingredients, its base with rose water will motivate you to make everything shine.. Effective for cleaning windows, mirrors, wood, leather, walls, floors and surfaces requiring a neutral pH. Quickly removes dirt without tarnishing, damaging or damaging floor finishes. Brightens all surfaces.
Directions: pour 5 ml of this product in 2L of water to clean floors and other large surfaces. Or add 1/4 tsp to a 500 ml bottle and top with water. One 500ml jar of concentrate will allow you to make 400 bottles of cleaner!! The price can't be beat.

Ingredients: Aqua, Sodium laureth sulfate (cleaning agent from plant sources certified without contamination), Alkyl polyglucoside (cleaning agent from vegetable source), Sodium chloride (mineral viscosity adjuster), Glycereth-2 cocoate (wetting agent from plant sources), Sodium citrate (plant pH adjuster), Citric acid (vegetable chelating agent), benzisothiazolinone (Synthetic and biodegradable preservative), Dye (food grade dye)
Fragrance / Perfume mix containing at least 50% natural essential oils and sometimes synthetic perfumes always without harmful chemicals

Caution In case of splashes in the eyes, wash with plenty of water without delay. See a doctor. Keep out of the reach of children.