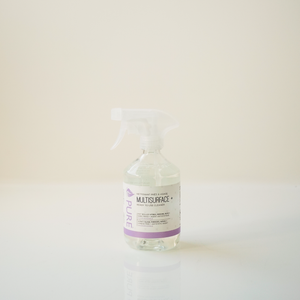 NEW - Comes prefilled in a glass deposit jar
$2 refundable jar deposit will be added at checkout
Description: We love the Multisurface cleaner by Pure for so many reasons. First, this bulk ready-to-use cleaner is made from a biodegradable formula and natural ingredients. Its ingredients are gentle, toxin-free and above all, safe for the air in the home and non-irritating to the respiratory tract. In addition, this cleaner shines windows, mirrors, wood, computer screens, glasses and more. But its efficiency remains the main reason.

Ingredients: Aqua, Sodium laureth sulfate (cleaning agent from plant sources certified without contamination), Alkyl polyglucoside (cleaning agent from vegetable source), Sodium chloride (mineral pH adjuster), Glycereth-2 cocoate (wetting agent from plant sources), Sodium citrate (vegetable spring water softener), Citric acid (vegetable source chelating agent), benzisothiazolinone (Synthetic and biodegradable preservative)
Fragrance / Perfume mix containing at least 50% natural essential oils and sometimes synthetic perfumes always without harmful chemicals.

Caution: In case of splashes in the eyes, wash with plenty of water without delay. See a doctor. Keep out of the reach of children.