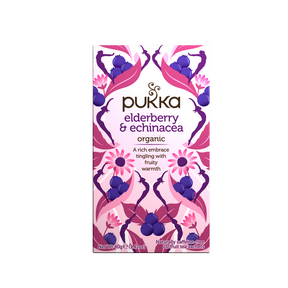 Let yourself fall into a deep bed of ripe wild fruits: purple-black elderberries, inky blackcurrants blessed by the fragrant FairWild elderflower and touched by the tingling notes of echinacea. Safe in your fruity refuge, you ll be ready for anything. 100% organically grown and ethically sourced ingredients. Caffeine free.
20 Count Box
Ingredients: Naturally caffeine-free and ethically sourced ingredients: Licorice root*, ginger root*, echinacea root and leaf* (10%), beetroot*, aniseed*, elderflower* (8%), peppermint leaf*, orange peel*, elderberry* (6%), rosehip*, acerola juice flavour*, orange essential oil flavour*?, natural blackcurrant flavour. *organic ingredients (99.9%). ? contains non organic lecithin.

Organic. Vegan. Gluten free. Soya free. Kosher. Vegetarian. Wheat free. Dairy free.
FSC Certified box printed with vegetable-based ink, tea envelopes are made of paper and can be recycled or composted, tea bags are industrially compostable but are submitted for review for certification in home compost bins.