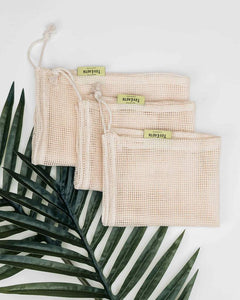 100% Organic Cotton: The design is a double-stitched, durable and lightweight mesh. You will not have to worry about your bags tearing or falling apart after repeated use.

Easy to Wash and Quick to Dry: These produce bags' mesh pattern makes it easy to rinse with water to remove any dirt, soil, or stains. You can also place them in your washing machine for a more effortless cleaning experience. To dry, flatten them out and allow them to air dry.

Features
• Zero waste
• Reusable
• Comes with weight of bags labeled
• Two sizes
• 100% organic cotton
• Drawstring
Large 17" x 11"
Medium 13" x 11"