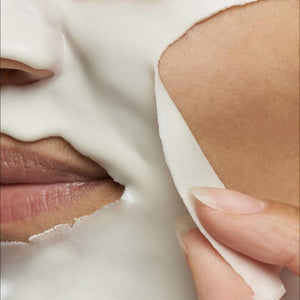 In only 10 minutes, this soothing face mask will help calm, soothe and moisturize the skin. Formulated with pink clay, to detoxify the skin, with Hibiscus powder, for a natural "botox" effect, and with kombucha, to enhance skin brightness, this face mask will leave your skin soothed and calmed!
This peel-off face mask comes in a powder form, which needs to be mixed with water in order to obtain a gel texture. Once dry, the mask should be peeled off the skin and does not need to be rinsed. Once your spa-time is done, you can compost the mask.
Directions: Mix 15 g (55 ml) of powder with 45 ml of water, or until you get a smooth and thick mixture. Apply in a thick layer on a clean skin. Let it dry for about 10 minutes, then remove by lifting it off in one piece.
Important: For the mask to come off at once, the quantities of powder and water must be respected. The mixture should be thick and should be applied in a generous layer on the skin.
Use 1 x a week
Ingredients: Diatomaceous Earth, Algin, Calcium Sulfate, Tetrasodium Pyrophosphate, Saccharomyces/Xylinum/Black Tea Ferment, Kaolin, Cyamopsis Tetragonoloba Gum / Cyamopsis Tetragonoloba (Guar) Gum, Illite, Glycerin, Hibiscus Sabdariffa Flower Extract, Potassium Sorbate, Sodium Benzoate.
Alginate (Algae): Marine algae is full of benefits for the skin. It is detoxifying, anti-inflammatory and anti-aging. It also helps to retain moisture into the skin.
Hibiscus powder: Hibiscus is known for its incredible anti-aging properties. It also helps to purify the skin and control the production of sebum. This ultimately provides a clear and radiant complexion. 
Pink clay: Pink clay is immensely detoxifying and eliminate dead cells. It refreshes the skin and gives it an immediate glow.
Kombuchka (black tea ferment): Kombucha helps to improve skin texture, enhance skin smoothness and brightness.