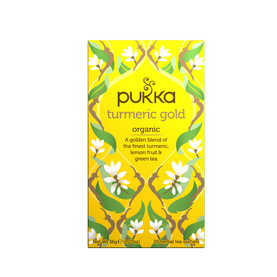 Bask in the glow of golden yellow. Golden turmeric - the queen of protective herbs whose nourishing yellow sustains life's majestic glow. Lifted by lemon fruit, aromatic cardamom and enriched with organic green tea, this elegant blend will leave you renewed. Don the shield of nature's super spice and feel the full majesty of nature flow. Here's to Glowen moments. 100% organically grown and ethically sourced ingredients. Caffeine free.
20 Count Box
Ingredients: turmeric root (40%), Suoi Gang green tea (20%), licorice root, cardamom pod, lemon Vana tulsi leaf, lemon essential oil flavour (6%), lemon whole (6%). 12% FairWildTM certified ingredients (licorice) by dried weight

Organic. Vegan. Gluten free. Soya free. Kosher. Vegetarian. Wheat free. Dairy free.
FSC Certified box printed with vegetable-based ink, tea envelopes are made of paper and can be recycled or composted, tea bags are industrially compostable but are submitted for review for certification in home compost bins.