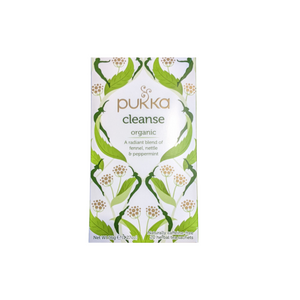 Glow from the inside out. It starts with a cup of herbal goodness, fresh with nature's green riches: FairWild nettle leaf, dandelion root and fennel seed, cooled with peppermint and aloe vera. It ends with a glow that flows into the sparkle of your eyes and the beauty of your skin. To Purity.. 
100% organically grown and ethically sourced ingredients. Caffeine free.
Ingredients: Nettle leaf (40%), peppermint leaf (25%), fennel seed (25%), dandelion root, licorice root, aloe vera leaf (concentrated natural extract).

20 Count Box
Organic. Vegan. Gluten free. Soya free. Kosher. Vegetarian. Wheat free. Dairy free.
FSC Certified box printed with vegetable-based ink, tea envelopes are made of paper and can be recycled or composted, tea bags are industrially compostable but are submitted for review for certification in home compost bins.