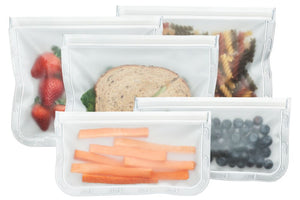 Use (re)zips to replace plastic baggies used for snacks, sandwiches, travel, home organization and more. (re)zips are made out of food safe, FDA-grade PEVA material, and are PVC-free, lead-free & BPA-free. (re)zips are safe to use in the freezer and the leakproof double-lock closure seals in freshness.
5-pack: 3 (re)zip seal lunch bags and 2 (re)zip seal snack bags
Dimensions:
Lunch: 8.5" x 7.25"
Snack: 8.5" x 5"
Gallon: 11.5" x 12.75"
Dishwasher safe on top rack only on low-heat, as always hand washing the safest bet for long-lasting products!
Double-lock closure provides an airtight seal for lasting freshness!
Replaces: single-use ziplock bags and plastic wrap
End of life: recycle
Brand: BlueAvocado
Material: BPA free plastic
Made in: China responsibly