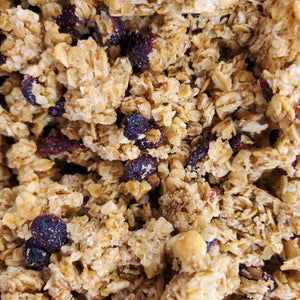 Ingredients: Oats, canola oil, organic tapioca syrup, white flour (niacin, iron, thiamin, riboflavin, folic acid), cashews, cranberries (sugar, sunflower oil), sugar.
Allergens: tree nuts, wheat/gluten. May contain soy.
Preparation: Cranberry & cashew cereal clusters are granola bites that are fruity and nutty in flavor, this cluster mix is also crisp and crunchy in texture; ideal for snacking or for adding as a topping to your baked goods.
1 cup = approx