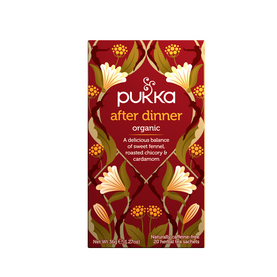 The grand finale. Beyond the chatter steam rises and mugs are stirred. First, the luxurious taste of roasted chicory. Next, the calm of cardamom mingling with aniseed, followed by sweet fennel and licorice. One slow sip follows another. Could this be the most delicious course yet? Have a good evening. 100% organically grown and ethically sourced ingredients. Caffeine free.
20 Count Box
Ingredients: Roasted chicory root (24%), aniseed, fennel seed (20%), licorice root, cardamom seed (8%), orange peel, ginger root.

Organic. Vegan. Gluten free. Soya free. Kosher. Vegetarian. Wheat free. Dairy free.
FSC Certified box printed with vegetable-based ink, tea envelopes are made of paper and can be recycled or composted, tea bags are industrially compostable but are submitted for review for certification in home compost bins.